DEFICIENT INDOOR AIR QUALITY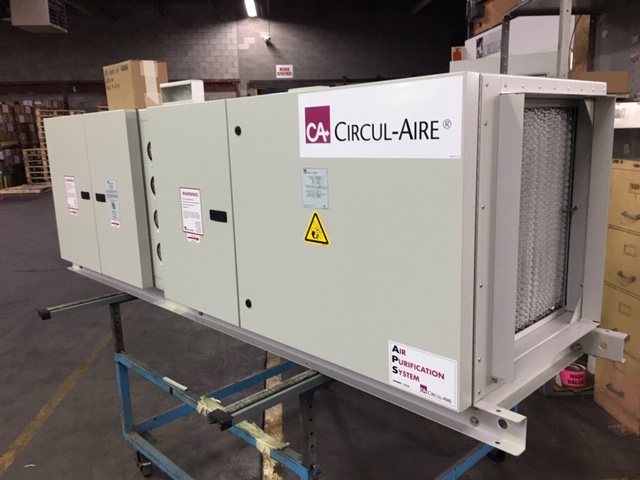 Each indoor environment is susceptible to deficient indoor air quality known as "sick building syndrome", which refers to an indoor environment that negatively affects the way people feel.
Deficient indoor air quality in industrial applications is caused by inadequate ventilation, indoor contaminants and biological contamination.
SOLUTION: the LCRs series
1. Compact multi-stage filtration for customized solutions
Leveraging from Circul-Aire's advanced technology of gas phase and particulate filtration, this system offers maximum contaminant control efficiency.
Applications that have multiple contaminants requires the use of multi-stage filtration to optimize efficiency.
Multi-stage filtration, particulate filters, HEPA filters and Extract MULTI-MIX® media are combined in various sequences to efficiently remove contaminants.
Up to five stages of filtration can be integrated to meet requirements of each specific applications.
LCRs units can be installed where space requirements are restricted.
2. Compact unit easily integrated in a dedicated space
The LCRs series represents a high performance system which integrates rugged components used by Circul-Aire in the industrial sector.
This filtration technology has been adapted and packaged into a compact commercial unit to easily integrate within any indoor environment.
Available in vertical or horizontal configurations.
3. LOW MAINTENANCE UNIT
Unlike other air purifiers, the LCRs has significantly more media to effectively remove more contaminant loads and reduce maintenance frequency.
This product is coated with Blygold's high-end corrosion protection solution for longer-lasting units.
The LCRs, like all CORE-Aire products, are built and assembled ready to install in our plant to ensure uncompromised quality.